Norman Fisher
To listen to the audio files, please
log in
.
Profile
Death

20 November 2001

Dates

1935-1979

Role

Cameraman

Newsreels / Cinemagazines

Pathe News; British Movietone News; British Paramount News

Search

Notes

Fisher was interviewed for the IWM Dept. of Sound Records - access Nos.5436/7. In December 2001 the BUFVC acquired all of Fisher's diaries, photographic collection, and other newsreel-related materials, donated by his family following his death.

Photo credit

BUFVC/Norman Fisher Collection
Career
Norman Fisher joined British Movietone News as a cameraman in 1935. In October 1938 Fisher was sent with Paul Wyand [qv] to film Chamberlain's arrival at Heston airport, carrying his signed agreement with Hitler, for 'MR. CHAMBERLAIN RETURNS FROM MUNICH' in British Movietone News No.487. Fisher got the story, but Wyand's camera broke down. On the outbreak of war in September 1939 Fisher became a Movietone war correspondent, at first accredited to the RAF but afterwards replacing Jack Cotter [qv] as correspondent at BEF Army HQ in France. As Fisher recalled of the early months of the war, the accredited newsreel correspondents 'all had to work rather hard to raise enough morale building material for the cinemas back home in the absence of a shooting war': 'This mainly involved showing troops doing their own entertainments, the occasional laid-on exercise (no live ammunition), ENSA shows, Christmas Dinner at the Front Line with the good old Good Grub for the troops and Thumbs Up close-ups sort of stuff. Also the occasional Entente Cordiale with the French Army, such as a visit to the Maginot Line, or the odd Allied march past in Arras reviewed by British and French top brass, complete with bands.'
Fisher's first surviving credit is from November 1939, when he filmed a Thanksgiving Day dinner given by British RAF war correspondents in France. This was not used in the reel, but in January 1940 he filmed the Royal Ulster Rifles in France for 'VILLAGE FOLK EXPRESS SENTIMENT FOR BEF' in British Movietone News No.557A of the following month. In March 1940 he also worked with Movietone sound engineer Martin Gray [qv] to provide 'FRENCH MINERS FETE BEF REGIMENT' for No.562. The situation changed in May 1940 when the Germany Army attacked, Fisher later noting that 'Martin Gray and myself, with our Movietone camera car, filmed the retreat of the BEF through Belgium and France as best we could': 'We ended up about May 31st in Boulogne with a blown cylinder head on our Talbot 95 which we left in a garage. We removed our exposed film and such bits as we could carry and, under orders, boarded the first ship for Dover.'
Fisher filmed in North Africa, Singapore, Java, the Middle East, Tunisia, and Australia. In April 1941 Fisher filmed the bombardment of Tripoli, and in June 1941 he worked with Ben Hart [qv] of Paramount to film 'ALEXANDRIA RAIDED (FIRST PICTURES)' in British Movietone News No.1080 of July 1941. By September 1941 Fisher was in Singapore, providing footage that was used in 'SINGAPORE - ON THE ALERT' in No.645A of October 1941. In December 1941 Fisher and Bryan Langley began covering the Malaysian Campaign, and continued until the fall of Singapore in February 1942. In October 1944 Fisher also filmed the liberation of Greece, in co-operation with Douglas Hardy [qv] of British Paramount News, their footage being used in 'ATHENS CELEBRATES' in British Movietone News No.804. It seems that this co-operation continued, as Fisher is credited with several stories for British Paramount News between 1947 and 1953, including 'QUEEN MARY OPENS HOME EXHIBITION' in No.1672 of March 1947 and 'BRAVE CARDIFF. ALL BLACKS BEATEN' in No.2373 of November 1953.
When Alec Tozer [qv] left Movietone, Fisher teamed up with his sound engineer, Reg Sutton [qv]. In August 1948 they filmed Don Bradman's last Test Match at the Oval, Sutton recalling that 'he was clean bowled first ball of his innings and Norman just happened to switch on the slow motion camera at that moment to run out the tail end of the film ready to reload, we had him bowled in slow motion, what a scoop': 'Ever after Norman was the cricket king and sent to cover all the cricket - which he hated!' The story was carried as 'OVAL TEST SHOCKS' in British Movietone News No.1002A. Ronnie Noble [qv] told the same story, noting that Fisher hated both cricket and slow-motion filming, 'on account of the slow-motion camera, which is the heaviest and most cumbersome camera of all.' After the war, as Fisher recalled, 'Movietone formed a short film unit, separate from the newsreel, with the object of making short and documentary films for such as the Conservative Central Office, Central Office of Information, 20th Century Fox, BOAC, and others. Proceeds supported the newsreel, which apart from library revenue, was running at a loss.' Fisher was one of the cameramen involved, and in 1948 was chief cameraman on an instructional film for the Conservative Central Office, 'to show local party offices how to handle a forthcoming General Election.'
In January 1952 Fisher was one of the newsreel cameramen who covered the sinking of the Flying Enterprise, recalling that 'Reg Sutton [qv] and myself worked together on this one on behalf of Movietone': 'Reg Sutton and I were set up with a sound unit on the quayside at Falmouth for interviews with Captain Carlson and his First Officer, Kenneth Dancy, who were brought ashore within a few hours of the sinking.' Their material appeared in 'THE END OF THE 'FLYING ENTERPRISE'' in British Movietone News No.1180. After this, Fisher seems to have made royal stories his speciality. He covered several stories for Pathe News including part of the Royal Diary in No.56/50 of June 1956 and 'THE ROYAL WEDDING' in No.60/38 of May 1960. In January 1961 Fisher and Ken Taylor [qv] were assigned to cover Queen Elizabeth's first visit to India, their reports beginning with 'THE ROYAL VISIT TO INDIA' in No.1651A, and running to 'NEPAL WELCOMES QUEEN' in No.1657 of March 1961. Fisher appears in the Movietone staff list of January 1964, by which time he was the senior staff cameraman. His diaries record that he remained with the newsreel until his retirement in 1978, although his last credit is actually 'THE GENERAL ELECTION' in British Movietone News No.2606 of May 1979.



Sources

BUFVC, British Paramount News files, NR 9026 (23/11/1939), NR 9408 (3/3/1940), Issue Number 1067 (N. Fisher rota dopesheets, 23/28 April 1941), Number 1080 (B. R. Hart rota dopesheet, c. June 1941), Number 1109 (N. Fisher rota dopesheet, 10/9/1941), Number 1426 (Fisher's rota dopesheets, 16-18/10/1944): G. Sanger 'The Story of British Movietone News in the War Years,' c.1946, copy in BUFVC: R. Noble 'Shoot First!: Assignments of a newsreel cameraman' (London, 1955), pp.156-7: J. Ballantyne (ed) 'Researcher's Guide to British Newsreels' (BUFVC, 1983), p.91: J. Ballantyne (ed) 'Researcher's Guide to British Newsreels: Vol.II' (1988), p.35: Reg Sutton's typescript autobiography, copy in BUFVC: J. Ballantyne (ed) 'Researcher's Guide to British Newsreels: Vol.III' (1993), pp.10, 24-8: BUFVC, T. M. Gallacher, 'Additional Notes,' October 1998. NoS Number 31291; British Movietone News Number 2606; Date released 13/5/1979. NoS Number 40451; British Paramount News Number 1672; Date released 10/3/1947. NoS Number 44723; British Paramount News Number 2373; Date released 26/11/1953. NoS Number 107151; Pathe News Number 56/50; Date released 21/6/56. NoS Number 109173; Pathe News Number 60/38; Date released 9/5/1960.
Production Doc
Here is an example of one of Norman Fisher's dopesheets.
Source: http://bufvc.ac.uk/newsonscreen/search/index.php/document/107162_dope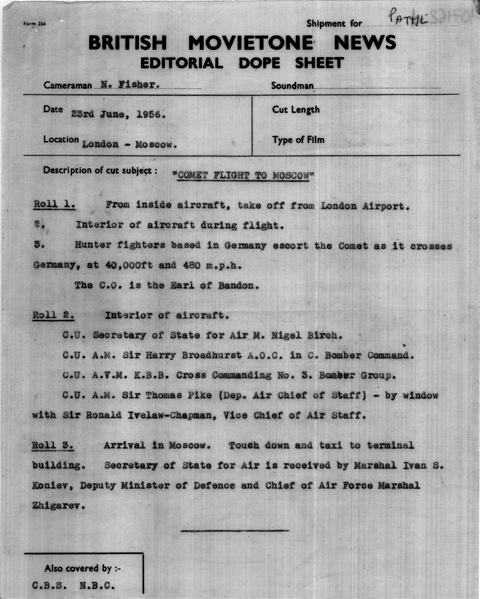 Record Stats
This record has been viewed 5023 times.