Edward A. Candy ("Ted")
To listen to the audio files, please
log in
.
Profile
Born

2 January 1920

Death

2007

Dates

1934-1985

Role

Cameraman; Production head; General manager

Newsreels / Cinemagazines

Gaumont British News; Look at Life; British Movietone News

Search

Notes

He appears in the documentary film 'Cameramen at War' (1943) and in the Gaumont British News stories 'CAMERAMAN CANDY SAFE' (Number 907, 14/9/1942) and 'CANDY WELCOMED HOME' (Number 932, 10/12/1942).

Photo credit

BUFVC/Ted Candy Collection
Career
Ted Candy began his career in 1934 as a press photographer, working first on the Bedfordshire Times and then on the Luton News. In 1940 Candy became a newsreel cameraman with Gaumont British News. According to Jock Gemmell [qv] of Pathe, Candy was in a ship that was torpedoed, but 'clinging to wreckage for 36 hours...was eventually washed ashore and taken prisoner of war in North Africa.' However, he was featured in 'CAMERAMAN CANDY SAFE' in Gaumont British News No.907 of September 1942, and 'CANDY WELCOMED HOME' in No.932 of December 1942. In July 1944 Candy worked with cameraman Eddie Edmonds [qv] and sound engineer Harry Abbott [qv] in filming 'PRESENTATION OF SOVIET AWARDS' in London for Gaumont British News No.1104 of August 1944. In June 1945 Candy filmed the King and Queen for 'ROYAL VISIT TO THE CHANNEL ISLANDS' in Gaumont British News No.1194, and also shot footage for 'FREEDOM OF THE CITY FOR GENERAL EISENHOWER' in No.1195. In October 1947 he helped film 'HIS MAJESTY UNVEILS MEMORIAL TO KING GEORGE V' for Gaumont British News No.1441.
In January 1953 Candy filmed 'RUGBY - IRELAND v FRANCE' for No.1990, and in February 1953 he filmed 'ROYAL FAMILY STARTS A BUSY YEAR: The Queen at Christening' for No.1995. In the same month it was noted that 'Candy of Gaumont is replacing Turner as Royal Cameraman during John Turner's [qv] illness and his material is Rota.' His first footage appeared as 'THE QUEEN AT LARKHILL POINT-TO-POINT' in Gaumont British News No.1998 of February 1953. In June 1953 Candy filmed at Westminster Abbey for 'THE CORONATION OF QUEEN ELIZABETH' in Gaumont British News No.2026. In February 1955 Candy was in Trinidad filming Princess Margaret for 'ROYAL TOUR: THE PRINCESS IN TRINIDAD' for Gaumont British News No.2201, and in June 1956 he filmed the Queen Mother and Princess Margaret for 'LONDON: THE ROYAL TOURNAMENT' in No.2341. In September 1956 he also filmed Princess Margaret in Kenya for 'MOMBASA: EAST AFRICA WELCOME' in No.2372.
In March 1959 Rank closed both Gaumont British News and Universal News, but created a new division of the company - 'Special Features' - to release a weekly colour cinemagazine called Look at Life. Candy was made Production Head, and announced that Look at Life 'won't be 'spot news'. We'll be doing things such as the colour bar, which is news all the time'. When Rank closed Look at Life in April 1969 Candy transferred to Movietone. In May 1979 British Movietone News itself closed, Candy explaining that 'The people behind Movietone News are very sentimental about it and have kept it going for many years losing money. But the point comes when you can't afford to lose anymore.' Candy remained at Movietone until his retirement as general manager in 1985.



Sources

BUFVC, British Paramount News files, Issue Number 1401 (Candy rota dopesheet, July 1944), Numbers 1491 and 1492 (Candy rota dopesheets, June 1945), Number 1738 (Gaumont rota dopesheet, October 1947), Number 2292 (Candy rota dopesheet, 11/2/1953), Number 2295 (Read's dopesheet, 21/2/1953), Number 2323 (Candy rota dopesheet, 2/6/1953), Number 2499 (Candy rota dopesheets, 2-4/2/1955), Number 2638 (Candy rota dopesheet, June 1956), Number 2669 (Candy rota dopesheets, September 1956): J. C. Gemmell 'Newsreels - Ancient and Modern,' Cine Technician, January-February 1952, p.5: Sunday Times, 1 March 1959, 'Two newsreels to carry on': Evening Standard, 24/5/1979, p.3, 'Fifty years on - the last reel of history': J. Ballantyne (ed) 'Researcher's Guide to British Newsreels' (BUFVC, 1983), p.91: J. Ballantyne (ed) 'Researcher's Guide to British Newsreels: Vol.II' (1988), p.33.
Production Doc
Here is an example of one of Ted Candy's dopesheets.
Source: http://bufvc.ac.uk/newsonscreen/search/index.php/document/45571_dope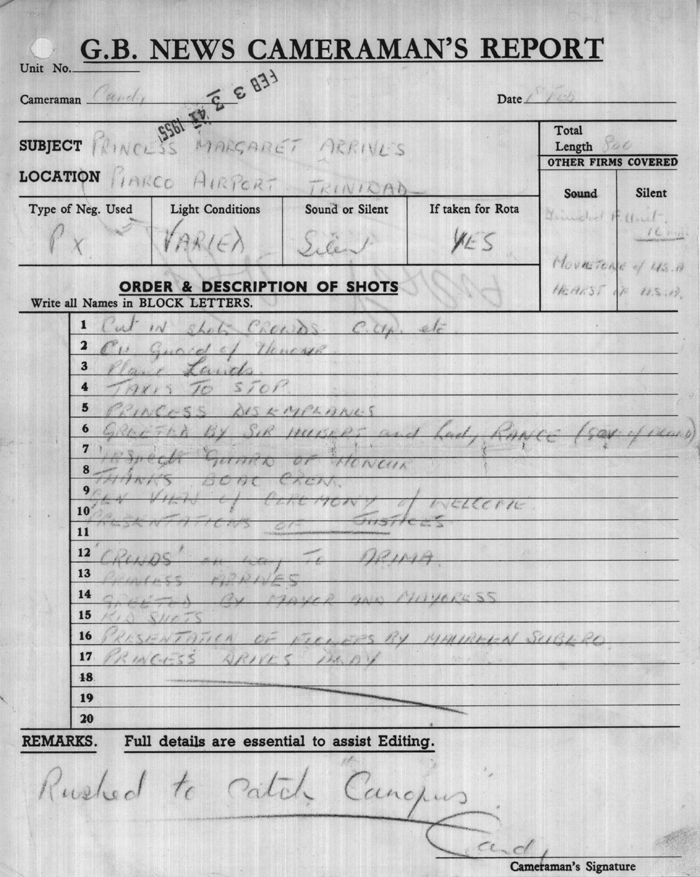 Record Stats
This record has been viewed 4161 times.